AB de Villiers, who shared a dressing room with Virat Kohli while playing for IPL team Royal Challengers Bangalore, can still clearly recall his initial opinion of the talented Indian batter. And it isn't a good one. Virat Kohli and Ab De Villiers friendship was developed during the time with RCB in IPL tournaments and now their bond is fans favourite.
Former India captain Virat Kohli has evolved not only as a modern-era great, or a legend in global cricket, but also as a human being. And much of the latter, as he acknowledged many times, contributed to his increasing dominance in international cricket, with the image of his earlier self almost disappearing.
Table of Contents
Virat Kohli First Impression on AB de Villers:
AB de Villiers, who shared a dressing room with Kohli for IPL club Royal Challengers Bangalore, recalls his first opinion of the great India batter. And it's not a nice one. The ups and downs of life have calmed Kohli extensively, and De Villiers concurred with him during his discussion with another former RCB cricketer, Chris Gayle, on the franchise's YouTube account. De Villiers recalls a different Kohli 10-12 years ago, when he was in his early 20s and had just secured his place in the Indian squad and won the ODI World Cup at home under MS Dhoni's leadership.
The former South African captain confessed that when he first met the ex-RCB captain in 2011, he found him "cocky and arrogant" and thought "he's got to come down to earth a bit" as Gayle was left in splits before indicating that he wasn't particularly enamored of the India batter at the time.
"Oh, my gosh…I've had this query before, and I've provided this answer before. When I first encountered him, I remember him being quite confident and arrogant. "He had a bit of an attitude going with that hairstyle," De Villiers said.
"Flamboyant, wasn't he?" Gayle, who couldn't stop giggling, continued.
"Absolutely," De Villiers responded. ""But as I came to know him better and watched him perform, I realized I had just as much respect for him as I did for him as a player. I believe he had a barrier around him when I first encountered him, and that barrier opened up as I came to know him. I didn't dislike him, but you get what I mean. He's a great guy now, but my first opinion was ufff…he needs to come down to earth a little."
Gayle eventually left RCB in 2018, and De Villiers declared his retirement from the IPL in 2021. Kohli is still a member of the club, but he is no longer the team's captain.
Virat Kohli and AB De Villiers Friendship:
It was De Villiers who calmed Kohli down, and his support was also crucial to the Indian batter's success. "I recall AB telling me that at that point of time. I told him I was nervous because I couldn't compete in the county. He stated that this is not 2014 and that you are no longer the same talent. You would be fine. After that, I felt a lot better. Before coming to England in 2014, I had a successful match against New Zealand at home. I got a hundred and a 70. "I had a lot of confidence," Kohli explained.
When in 2021 AB de Villiers made the announcement on Twitter, bringing an end to a remarkable career known to witnessed him play 114 Tests, 228 ODIs, and 78 T20Is for the Proteas, as well as various teams in T20 leagues around the globe.
Former Indian Test and ODI captain Virat Kohli tweet an emotional message on twitter. He said ""To the best player of our times and the most inspirational person I have met, you can be very proud of what you've done and what you've given to RCB my brother. Our bond is beyond the game and will always be. This hurts my heart, but I know you've made the best decision for yourself and your family like you've always done. I love you,"
Virat Kohli and AB De Villiers First Interaction:
In an interview, Virat mentioned "we first met in Johannesburg in 2011. We left the stadium through a tunnel. AB de had already practised and when we a arrived for practice, I sad, "Hello, I am really looking forward to playing with you (At RCB)". He replied by saying he was excited to play for RCB.
Virat Kohli and AB De Villiers Friendship Nicknames:
The connection between the two heart and spirits of the Royal Challengers Bangalore team, Virat Kohli and AB de Villiers, has always been in discussion.
Virat Kohli referred AB de Villiers as a BISCUIT. When asked why he refers to him as biscuit, Kohli said it comes from a South African slang phrase that means you keep the people you like close to you. As per reports, both Virat Kohli and AB De Villiers calls each other BISCUIT.
Virat Kohli and AB de Villiers Partnership 229
In 2016, the 229-runs partnership between Virat Kohli and AB de Villiers is the one of the breathing taking moment in IPL history. Notably, their partnership became the tournament's only partnership to achieve 200+ runs alliance twice. AB de Villiers and Virat Kohli's 229-runs partnership in IPL against Gujarat Lions. RCB had a fantastic season in 2016, led by Virat Kohli and AB de Villiers. The RCB captain got the most runs in an IPL season, 973, while AB de Villiers earned 687. Kohli set a milestone for all the other players by scoring four hundreds in a single IPL season.
Virat Kohli and AB De Villiers Friendship Photos HD: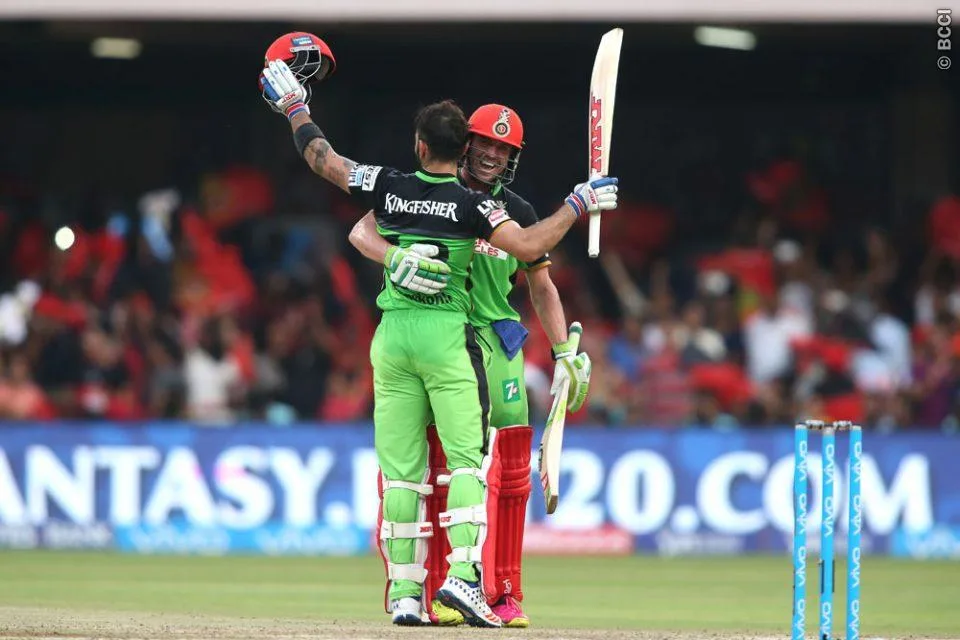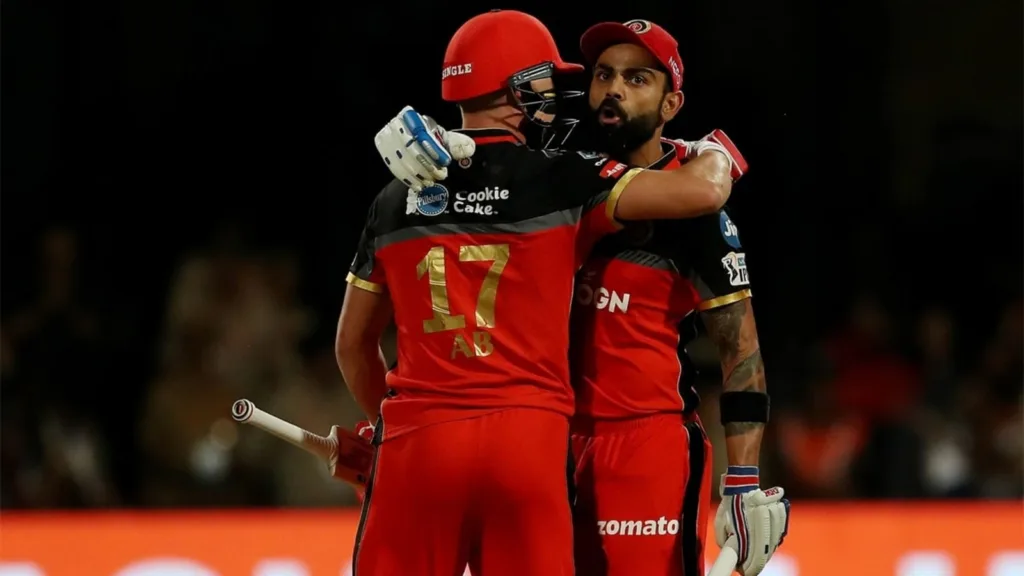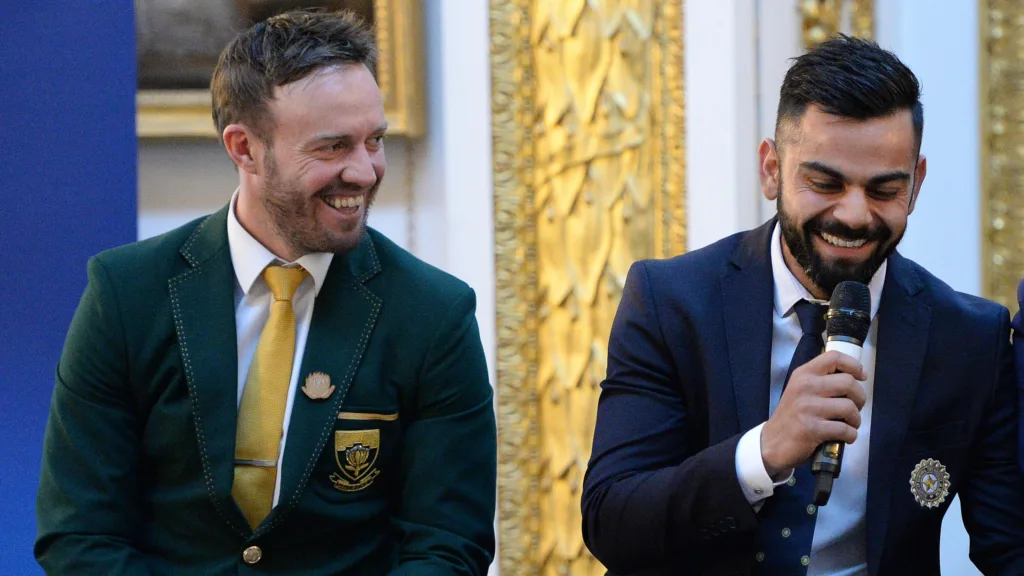 FAQ's:
Who is the best duo in IPL history?
Bangalore's legendary pair of Virat Kohli and AB de Villiers hold the title for the best partnership record in IPL history.
Are Virat and AB de Villiers friends?
Virat established a close relationship with AB de Villiers during his tenure with the Bangalore-based IPL franchise. The pair not only played a lot of cricket together, but they also set a number of milestones while batting together in the IPL. Virat Kohli and AB de Villers friendship is heart winning bonding and has a huge fanbase in world.